"A Year Like No Other"
Homecoming 2020
In true Golden Eagle spirit, we are rising to another challenge presented by the pandemic.  Each year, we look forward to Homecoming – the game, the tailgate, the festivities, and most of all, welcoming our alumni back to campus and spending time together.
However, out of concern for everyone's health and safety, this year's alumni events will be virtual. We are still excited about getting together online, and have created some fun events that still honor all that being a Morris Harvey/UC alum means.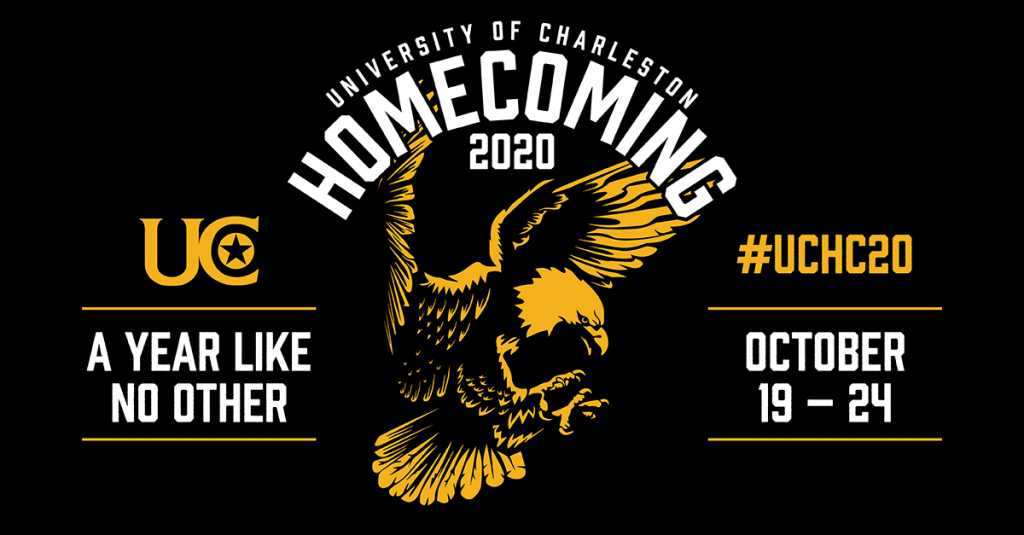 (Most of these events will be through the Zoom platform. The Zoom link will be posted on this page, and you will receive an email as well. Directions for using Zoom can be found at the bottom of this page.)
Friday, October 23
UC Athletics Trivia
5:00 pm – 6:00 pm
Here is your chance to show off your knowledge, win some prizes, have fun, and gain a few bragging rights as a Golden Eagle athletics wizard!  Join some of our head coaches – Jenna Theden (women's volleyball), Robbie Britt (baseball), Tianni Kelly (women's basketball), Daniel Smee (men's soccer), and Kim Stiles (softball) for trivia games that will test how much you know about our athletic teams, history, and more.
We'll even get you started:
In what year did football return to UC after a nearly 50 year absence? (The answer is at the bottom of the page.)
Homecoming Festival On the Lawn
5:00 pm – 7:00 pm
UC students will gather (while wearing masks and practicing social distancing) on the river bank to enjoy games, food and the announcement of our 2020 Homecoming King and Queen.  While there will not be a football game the next day, we know there will still be plenty of spirit for this event.
Saturday, October 24
Milestone Reunion Celebration
11:30 am – 1:00 pm
We may not be able to gather in person, but we will get together online to share memories, meet new alumni, and celebrate this momentous occasion.
An Invitation with an RVSP will be sent out in advance of the event.
Virtual Happy Hour
5:00 pm – 6:30 pm
All the fun of happy hour – but at home. Grab your favorite beverage, some snacks, and enjoy an evening connecting with old and new friends.
(Want to try something new for your snacks? Food Network has some ideas:  https://www.foodnetwork.com/big-game/big-game-appetizers/super-bowl-snacks#item-14)
Be sure to follow us on social media (#UCHC20) and feel free to contact our Alumni Office if you have any questions.
This is A Year Like No Other, but we know that our Golden Eagle spirit will continue to soar!
**Answer: 2003
Zoom is video conferencing software that allows people to have face to face meetings with many people online. It is free and easy to access.
If you have never used Zoom before, rest assured, it's easy. And it's a great way to see and hear your classmates virtually. To make it even easier, here is some basic information for using Zoom.  You can also find many tutorials on YouTube that will have you Zooming in no time!
First, you will need to download the Zoom app to your computer and/or your smartphone. Go to https://zoom.us/download and from the Download Center, click on the Download button under "Zoom Client For Meetings". This application will automatically download when you start your first Zoom Meeting.
Prior to the event, we will send you a link to that event. Just click on that link and you're in!
When you join, you will be asked for your permission to access the microphone and speakers. This allows you to talk during the meeting. At the bottom of your screen, you will see a small microphone. If it has a red line through it, that means that your microphone is muted. If it does not, you will be able to speak. Remember to mute your microphone when you are not talking, so that if you have a talkative dog or other people in the room, they will not be heard. Just click on the 'mute' or 'unmute' button at the bottom of your screen.
Instead of speaking, you can also type your greetings and conversations. (This is a good way to 'talk' if your computer doesn't have a microphone or speakers.) To do that, you can just click the Chat button in the menu bar. Simply type your message in the box, hit enter, and your message will be shared with the group.
When the meeting is over, just click on the Leave Meeting button. And happy Homecoming!