UCSOP Graduate's Team Wins Award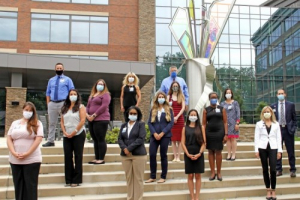 UCSOP Class of 2013 Debbie Nagg's team wins prestigious award from APhA
August 21, 2020 – UC School of Pharmacy Graduate Debbie Nagg (Class of 2013) is the Clinical Operations Coordinator for OhioHealth Population Health. Her team was recently awarded the Pinnacle Award by the APhA (American Pharmacists Association) Foundation.
The Pinnacle Award, one of the highest awards given by the APha, honors significant contributions to the medication use process through increasing patient adherence, reducing adverse drug events, promoting the use of national treatment guidelines, improving patient outcomes and enhancing communication among the members of the healthcare team.
"This year's recipients highlight the impact pharmacists can make in the provision of quality medication use services," said AphA Foundation Executive Director, Mitchel C. Rothholz, RPh, MBA.
While at UCSOP, Nagg was the ASHP student chapter president in her P3 year.
"I always knew she would go on and do great things," said David Bowyer, RPh, UC Department Chair, Pharmacy Practice. "It is nice to see her hard work validated externally."
The 2020 award recipients will be honored at a virtual program in September.
For more details about the award, the release from the APhA Foundation can be found here: https://clicktime.symantec.com/3EMet4JGC9cfx9e4wSVJjms7Vc?u=https%3A%2F%2Fnewsroom.ohiohealth.com%2Fohiohealth-named-a-2020-pinnacle-award-honoree-by-apha-foundation%2F
—