UC Pharmacy Graduate Wins National Honor from the US Public Health Service
Recent UC School of Pharmacy graduate Glenn Schiotis has been named the top Excellence in Public Health Pharmacy Award recipient by the United States Public Health Service.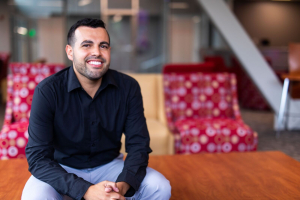 Schiotis was nominated for his work in developing the Change the Stigma Conference held at UC in March, 2020, involving over seventy interprofessional health-care students. The conference focused on addressing negative perceptions surrounding opioid addiction within the healthcare profession.
This year, 94 pharmacy students from across the country were recognized for their innovative and impactful efforts to address current public health challenges.  Of those students, 10 were identified as top award recipients.  These 10 students created or led projects that positively impacted underserved communities in their local communities and beyond.
"We are so proud to see Glenn secure the top position in the USPHS Excellence in Public Health Pharmacy Award," stated Md Omar Faruk Khan, Interim Dean of the University of Charleston School of Pharmacy. "This is the third time a UC School of Pharmacy student has been a top 10 recipient of this prestigious national award, and I am personally honored to have nominated such an exceptional student leader. Through his conference, Glenn influenced the thought processes of the attendees about substance use disorder, providing better insight on the opioid epidemic. His work will benefit many affected patients in the Appalachian region as well as in the nation."
Schiotis was also named the Top Graduate Student of the Year at the university's May 2020 graduation ceremony.
The pharmacists of the United States Public Health Service established the Excellence in Public Health Pharmacy Award in 2003 to encourage student pharmacists to become active in public health.  This annual award recognizes pharmacy students who demonstrate a commitment to it, recognizing student pharmacists who are active in developing innovative approaches to current public health challenges and those who will help lead the nation to a healthier future.