University of Charleston & West Virginia State University Join to Offer Pharmacy Degree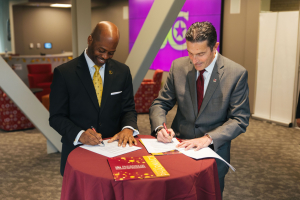 CHARLESTON, W.Va. — Officials with West Virginia State University (WVSU) and the University of Charleston (UC) School of Pharmacy have signed an affiliation agreement to offer a dual degree, seven-year Doctor of Pharmacy program.
Under the joint agreement signed today at the UC School of Pharmacy, students will complete the three-year undergraduate program in pre-pharmacy at WVSU and then successfully matriculate into the UC School of Pharmacy.
"This is an outstanding example of higher education institutions working together to meet the needs of the state and nation," said WVSU President Anthony L. Jenkins. "Through this partnership, our students will be able to continue their professional education and obtain their Doctor of Pharmacy degree enabling them to play a vital role in the health care delivery system of tomorrow."
"The University of Charleston is pleased to work with West Virginia State University and its students to access our doctor of pharmacy degree," said University of Charleston President Marty Roth.  "UC's award-winning School of Pharmacy has a rich tradition of preparing students for pharmacy careers.  We welcome WVSU's students as they aspire to have a positive impact on the lives of patients and in their communities.  WVSU's faculty and ours share a common goal – to enhance the quality of life in our city, state, and the world by preparing the next generation of health care leaders."
After completion of the first year of the professional curriculum at the School of Pharmacy at UC, the students will return to WVSU for graduation, during which they will receive a bachelor's degree in either chemistry or biology.  The students will then spend the next three years completing the professional curriculum of the Doctor of Pharmacy degree.
To be eligible for the program, a student must have earned a minimum of 90 credits at WVSU and notify WVSU in writing, of the intent to: 1.) pursue the dual degree program; 2.) meet the criteria for admission to the UC School of Pharmacy; and 3.) permit UC to transfer the student's grade transcript back to WVSU for the express purpose of documenting student completion of any and all degree requirements set by WVSU in the student's chosen field of study.
The agreement, known as "The 3 + 4 Charleston Dual Degree Program in Pharmacy," will be a pre-pharmacy program that will give the students the opportunity to complete their degree in two phases:  Phase I consists of three years of undergraduate education at WVSU, and Phase II consists of four years of pharmacy education at the UC School of Pharmacy. The number of reserved seats in Phase II of the Program for WVSU students completing Phase I will be determined and re-evaluated on an annual basis according to the number of qualified students interested in participating and by mutual agreement between WVSU and the UC School of Pharmacy.