A Veteran's Day Message from UC President Martin Roth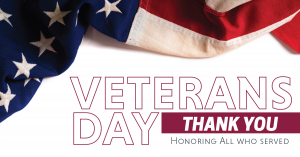 Dear UC Community,
In 1954, when November 11th was officially named Veterans Day, United States President Dwight D. Eisenhower called upon all citizens to join to "solemnly remember the sacrifices of all those who fought so valiantly on the seas, in the air, and on foreign shores, to preserve our heritage of freedom."
Today, our troops continue to serve with dedication and honor, all around the world. We recognize the commitment, and sacrifices of our soldiers, sailors, Airmen, Marines, Coast Guardsmen, and Merchant Mariners – and their families.
As a Military Friendly university, I am proud and humbled to offer our veterans the opportunity to continue their education – wherever they serve and wherever they live. It's a designation that we are both honored and proud to have. And it's one that we will continue to work to make sure that our military students get the support they need to reach their educational goals.
Today, and every day, we take this moment to say thank you to those who served – and those who serve today. It is because of them, and their families, that we can enjoy the freedoms that we as Americans often take for granted.
So please take a moment today to reflect on what this day is truly about. To remember the sacrifices, the service with honor, the dedication of those who serve, and those who love and support them.
Happy Veteran's Day from all of us at the University of Charleston.
With appreciation and respect,
Martin S. Roth
President